"Practical Prayer for Real Results" Book
by Rev. Bill Marchiony
A Practical Prayer is a one that is answered.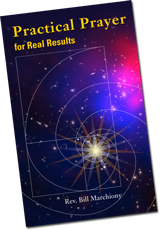 Practical Prayer works for anyone, regardless of their religious background or experience. The clearly defined sequence of steps for Practical Prayer described in this book are distilled from a common thread found in the spiritual practices of religions and disciplines all over the world.
It's anchored in the rich history of prayer, yet free of the dogma and personality of any particular religion or belief system.
Available in paperback and Kindle on Amazon.com.
What people are saying about "Practical Prayer for Real Results"
Dr. Michael Bernard Beckwith
Rev. Marchiony is a trustworthy guide into the sacred practicality of prayer. There is nothing like direct experience of the universe's cosmic laws, and that's precisely what the prayer principles he describes are based upon.
Michael Bernard Beckwith
author of Life Visioning
Rev. Dr. "Indiana Joni" Carley
"Practical Prayer for Real Results" provides both a quick, effective way to pray and a comprehensive deep dive into wholeness. It's a wise and wonderful framework for grappling with life's challenges that makes practical sacred connections between everyday issues and that spiritual Source where the most powerful answers lie. Use it as an easy formula for powerful prayer and meditation or use it intensively to "marinate" yourself in the flow of the Divine through your life.
- Rev. Dr. "Indiana Joni" Carley
Founder, Leaderful Edge - Progressive Leadership Development
Rev. Loretta Brooks
"Learning to use the power within is a gift we give to ourselves. This book, Practical Prayer for Real Results, will assist you in forming and reforming your own reality. It is a gift."
- Rev. Loretta Brooks,
Sr. Minister, New York Community Center for Spiritual Living
Barbara J. Gilfillan, RScP
I am engrossed in your book. OMG it's absolutely wonderful.I don't know how it came to me. And, as we know, it doesn't matter. What matters isI have it and plan on passing it along to others.
Thank you, thank you,

- Barbara J. Gilfillan, RScP
Concordia CSL, Warwick, RI